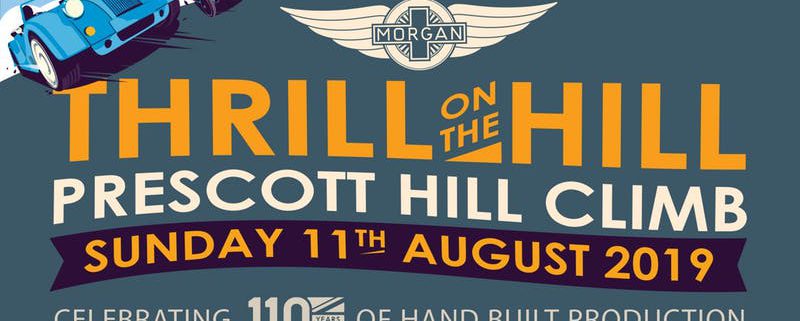 Thrill On The Hill 2019
Join the Morgan Motor Company for Morgan themed entertainment and celebration as we mark 110 years of the marque at Thrill On The Hill 2019. Following the success and feedback of the 2018 event, TOTH will be returning to Prescott Hill Climb in Gloucestershire where visitors will have the opportunity to drive the famous hill climb in their Morgan. Don't have a Morgan? Don't worry! We will be offering passenger rides in a factory car.
Join fellow owners and enthusiasts alike in the relaxed atmosphere of Prescott Hill Climb where there will be plenty on offer for the whole family. Browse the 100's of Morgans from all ages on display or relax on the restaurant balcony and watch the cars take to the track. Cars spanning 110 years of Morgan will take to the track, from pre-war Three Wheelers to the latest 2019 Morgan range. We are also planning some special lunchtime parades and a number of trade stands for visitors to browse through.
Important information
General admission
– All visitors to the event must purchase a General Admission ticket
– The event will be open from 9am until 5pm
– Early bird general admission tickets are available until March 29th at 23.30
– General admission tickets will be available on the gate at a first come first served basis
– On-site parking is available free of charge. Unfortunately there is no camping facility available.
Hill Runs
– Anyone wishing to drive their own Morgan on Prescott Hill Climb must purchase a timed hill run slot
– Hill runs can be purchased in hour slots on a first come first served basis
– Only Morgans are permitted on the hill climb during the day, no exceptions
– A purchased hill run ticket permits the driver and passenger(s) on to the hill. You do not need to purchase extra tickets for your passenger.
– Hill runs are not timed, and helmets are not required
– Drivers and passengers must complete a hill briefing before being permitted onto the hill. For safety reasons there can be no exception to this rule
– Those participating in a hill run are encouraged to take their hill run at the beginning of their timed slot to avoid queues in the paddock
– Your Morgan should be registered and you must hold a valid driving license
Passenger rides
– A limited number of passenger rides are available for morning or afternoon sessions on a first come first served basis
– Passenger rides will be in a Morgan Motor Company vehicle driven by an official driver appointed by the Morgan Motor Company
– Type and model of Morgan is not pre-bookable, and will depend on first come first served availability on the day
Tickets available online only. Any questions please email toth@morgan-motor.co.uk or call Morgan reception during business hours on +44 (0) 1684 573104.